Regular price
$60.00 USD
Sale price
$29.95 USD
Unit price
per
Sale
Sold out
🌸 Bye Irritation, Hello Smooth!
💰 Smart Savings, Lasting Value
🌎 Save Earth, Plastic-Free
🌟 Effortless, Effective Shaving
Experience the Future of Shaving with EcoGlide - The Smooth Operator!
🌸
Smooth Shave:
Goodbye to skin irritation, shave bumps, and ingrown hairs. EcoGlide, the precision-engineered safety razor, ensures a flawless shave.


💰
Savings:
Invest wisely. EcoGlide may cost more upfront, but it's your long-term money saver. No more costly cartridge razors that break easily.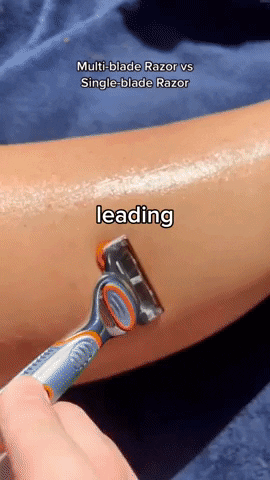 Invest in Quality, Save the Planet
🌎 Eco-Friendly: Join the plastic-free movement! EcoGlide is made from durable, recyclable metal, reducing plastic waste.
🌟 Effortless: Experience an easy, irritation-free shave. Use EcoGlide at a 30-degree angle with gentle pressure for a smooth result.


Quality Over Quantity
The Truth About Shaving Blades
We're designing the future of shaving, and that future is plastic-free, recyclable and refillable.
Free Shipping

We take 24 to 48 hours to process the order.

We offer free shipping on all orders worldwide, without the minimum amount required.

Our team is working hard to ensure quick and safe deliveries. However, due to a recent influx in demand and supply chain shortages, shipping may take longer than usual. Please see your estimated shipping time at checkout.
30-Day-Risk-Free Return

If you are unhappy with your purchase for any reason contact us for a full hassle-free refund, love it or your money back!
View full details
FAQ
How do I maintain my EcoGlide Shaver?

Keep it clean and dry for the best results. A quick rinse does the trick.
Can I use it on sensitive skin?

Absolutely! The EcoGlide is designed for a gentle, irritation-free shave.
Is it easy to replace the blades?

Yes, it's a breeze. Check our instructions for a quick blade swap.
What makes EcoGlide eco-friendly?

It's plastic-free and built to last, reducing waste and saving the planet.
How often should I change the blades?

For optimal results, change the blade every 4-8 shaves!